The Manhattan District Attorney Office indicted the Trump Organization and its CFO Allen Weisselberg with 15 felony counts of fraud and tax evasion:

Carey Dunne, the general counsel of the Manhattan district attorney's office, told state court Justice Juan Merchan that the charges encompassed a 15-year-long tax-fraud scheme [2005 to 2021] involving off-the-books payments at the Trump Organization. He said Mr. Weisselberg had illegally avoided paying taxes on $1.7 million in income.

"There's no clearer example of a company that should be held to account," Mr. Dunne said. "It's not about politics."

"The scheme was intended to allow certain employees to substantially understate their compensation from the Trump Organization, so that they could and did pay federal, state, and local taxes in amounts that were significantly less than the amounts that should have been paid," states the indictment. "The scheme also enabled Weisselberg to obtain tax refunds of amounts previously withheld and remitted to federal and state tax authorities."

It's not about politics, but the investigation did not start until Donald Trump became president. Okay, bro. Whatever you say. The case details do not help Dunne's declaration either:

A case solely focused on fringe benefits is unusual, former prosecutors said. Charging an individual or company for failure to pay taxes on employee benefits alone is rare, though such charges are used as part of larger cases.

Weisselberg and the Trump Organization pleaded not guilty.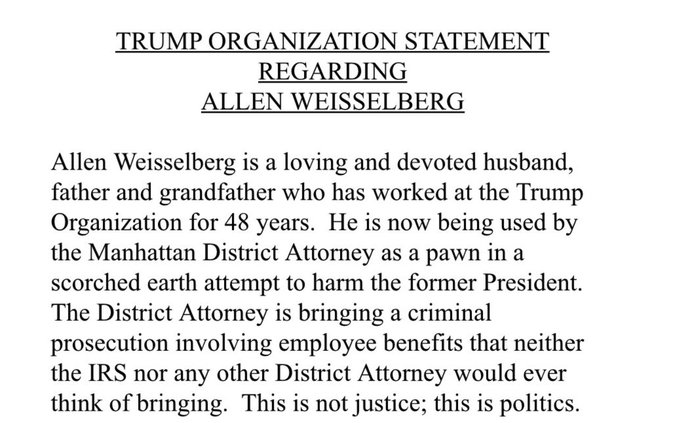 Source: Trump Organization, CFO Allen Weisselberg Plead Not Guilty to Tax, Fraud Charges